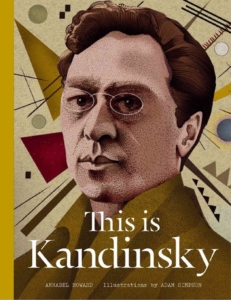 This is Kandinsky
(Annabel Howard)
Bežná cena: 14.95 eur
Naša cena: 7.00 eur
Popis:
Intellectual, emotional, restless, dogged, loyal, selfish; Kandinsky was an artist – and a man – of contradictions.
This genre-defying painter didn't pick up a brush until he was thirty years old. He was an academic with a promising career that he threw away to explore the arts. He was a Russian, yet he spent more than half of his life on the road, and died in self-imposed exile in France. As an artist he is credited with history's first abstract painting, but it was his theories that had a profound and lasting impact on the way that people understand and value what art can achieve.
Richly illustrated with specially commissioned artworks and 20 of Kandinsky's major works, This is Kandinsky forms the perfect introduction to the life of this revolutionary figure in twentieth-century art.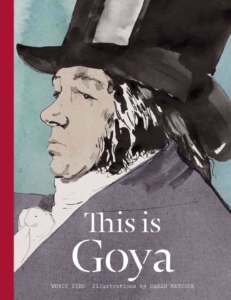 This is Goya
(Wendy Bird, Sarah Maycock)
Bežná cena: 14.95 eur
Naša cena: 7.00 eur
Popis:
Modern art begins with Goya. He was the first to create works of art for their own sake, and he lived in a time of incredible cultural and social dynamism when the old concepts of social hierarchy were being shaken by the new concept of equality for all. He saw his world ripped apart by Napoleon's armies and then suffered the reactionary backlash as the old order was restored. Against this epic canvas, Goya painted his own observations of humanity, transforming his youthful images of gaily dancing peasants into his mature penetrating studies of human suffering, despair, perseverance and redemption. Goya's art rises above the chaos of his times, and signals the real revolution of personal expression and independent spirit that would be the generative force behind the modernist movement in art.
This title is appropriate for ages 14 and up.
This is Rembrandt
(Jorella Andrews)
Bežná cena: 14.95 eur
Naša cena: 7.00 eur
Popis:
Rembrandt van Rijn is the quintessential Old Master. His intimately observed, vivid and profoundly atmospheric works are what many museum-goers consider traditional painting ought to be. But in his own lifetime Rembrandt was not always so well regarded. The expressive honesty of his paintings and prints could evoke disdain as easily as admiration. For more than a century after his death his style was dismissed by many academically trained art theorists and critics. In the nineteenth century, however, he was championed by artists fired by the revolution and change of their times. For them, Rembrandt was a kindred, radical spirit, his paintings imbued with a truly modern ethos. Born at the beginning of the seventeenth century in the Golden Age of the newly formed Dutch Republic, Rembrandt found early fame and great wealth as a painter, living with the opulence of a rock star. But he spent way beyond his means. When, midway through his career, public taste turned away from him, these combined factors proved ruinous. For the rest of his life he would be destitute, crippled by debt, the loss of patrons and the deaths of loved ones. Nonetheless, he continued to paint with the same passion. The art he produced in his final years is arguably his most enduringly sensitive and open.
This is Monet
(Sara Pappworth)
Bežná cena: 14.95 eur
Naša cena: 7.00 eur
Popis:
Claude Monet is best known as a leader of the Impressionists, his paintings defining the style that triggered a revolution in art. During the eighty-six years of his life, Monet never rested, and was always driven by the urge to paint. And more than two thousand paintings survive from six highly creative decades. Despite being a celebrity among France's political and cultural elite, Monet never became complacent. Even in his seventies and eighties he was still producing paintings that astounded the art world. Monet's work remains highly influential—his abstraction, gestural strokes and expressive color capturing the imagination of generation after generation of artists.
This title is appropriate for ages 14 and up.
Max Beckmann
(
Reinhard Spieler)
Bežná cena: 11.93 eur
Naša cena: 8.00 eur
Popis:
Max Beckmann (1884-1950) found his central theme in the loneliness of the twentieth century man, threatened by catastrophe and torn between materialism and freedom of mind and spirit. His early pictures showed the influence of Impressionism, with a preponderance of biblical, historical, and allegorical themes. World War I made a deep impression on him: somewhere between Expressionism and Neue Sachlichkeit (New Objectivity), the succinct forms and hard contours in his memorable paintings and graphic works showed man at the limit of physical and mental endurance. Later, the harshness and severity of his style softened and his colors became more radiant, but the monumentality remained. Theater, circus, and music hall became parables of human existence. Beckmann's work is concerned with the fundamental conditions of human existence and the tragic entanglement of the human being dependent on the whims of gods, sexuality, and society. His relentless search for knowledge, his uncompromising commitment to the picture, and his belief in the power of its form and color give his work it's distinctive, fascinating character, and have earned him a high-ranking place among the artists of the twentieth century.
Selected Writing
(René Magritte, Kathleen Rooney, Eric Plattner)
Bežná cena: 26.95 eur
Naša cena: 18.00 eur
Stav: zadný prebal na spodnej časti mierne natrhnutý
Popis:
Available for the first time in an English translation, this selection gives non-Francophone readers the chance to encounter the many incarnations of renowned Belgian painter Rene Magritte – the artist, the man, the aspiring noirist, the fire-breathing theorist – in his own words. Through whimsical personal letters, biting apologia, appreciations of fellow artists, pugnacious interviews, farcical film scripts, prose poems, manifestos and much more, a new Magritte emerges: part Surrealist, part literalist, part celebrity, part rascal.While this book is bound to appeal to admirers of Magritte's art and those who are curious about his personal life, there is also much to delight all readers interested in the history and theory of art, philosophy and politics, as well as lovers of creativity and the inner workings of a probing, inquisitive mind unrestricted by genre, medium or fashion.
Gustav Klimt: Painter of Women
(Susanna Partsch)
Bežná cena: 15.50 eur
Naša cena: 7.00 eur
Popis:
The enfant terrible of the Viennese art scene, Klimt was notorious for his portraits of beautiful women. Illustrated with color reproductions, this book profiles the women who figured in the artist's life and on his canvases. The author looks beyond the standard assumption that Klimt was a hardhearted philanderer, pointing instead to his committed and loving relationship with Emilie Flöge that prevailed despite the parade of beautiful women who wandered in and out of the artist's studio. Partsch demonstrates Klimt's role in the evolution of portrait painting, which helped usher in the age of Expressionism.
Egon Schiele: Landscapes
(Rudolf Leopold)
Bežná cena: 19.95 eur
Naša cena: 10.00 eur
Popis:
This visually stunning collection of landscape paintings and drawings by Egon Schiele brings to light a little-known aspect of this famous painter's oeuvre, proving that his mastery extends beyond his radical renditions of the human figure and revealing themes that appeared throughout his life's work. While Schiele is largely revered for his provocative paintings of women, these works were just one aspect of his artistic expression. Schiele's landscapes represent an important facet of his career and are a valuable contribution to the school of European nature painting.
Vincent Van Gogh
(Isabel Kuhl)

Bežná cena: 21.95 eur
Naša cena: 11.00 eur
Popis:
Anyone studying a Van Gogh painting with its heavily articulated brushstrokes, dazzling color, and hypnotic perspective will wonder about the artist who created such masterpieces. Although some details of the Dutch artist's brief and tragic life have been mythologized into the popular culture, this book takes a deeper look at Van Gogh's history and oevre. Drawing on Van Gogh's correspondence, this book allows readers to experience the artist's life and work synchronistically, with brilliant reproductions of his most famous and lesser-known works. In addition, it provides valuable information about where readers can view Van Gogh's work in museums throughout the world. Art lovers will find much to discover in this appealing and accessible overview of one of the world's most compelling figures.
Francis Bacon (Living Art Series)
(Anna Maria Wieland)
Bežná cena: 14.95 eur
Naša cena: 7.00 eur
Popis:
This latest addition to Prestel's successful Living Art series offers a critical portrait of Francis Bacon, one of the world's most renowned contemporary artists, to reveal a conflicted man of prodigious talent. This accessible look at Bacon's life and art displays the many facets that make his career so intriguing. Filled with personal photographs, quotations from the artist, and beautiful reproductions of his bold, austere and often grotesque paintings, this volume introduces readers to the various themes surrounding Bacon's life. The book explores topics such as his distinctive artistic style, his tumultuous and troubled life, the critical reception of his work, and his views of humanity as exemplified in his art. Written as a journalistic essay and featuring an innovative layout, this book is a fascinating introduction for anyone interested in learning about this acclaimed artist and his riveting artworks.
Paul Klee (Living Art Series)
)

Bežná cena: 15.95 eur
Naša cena: 10.00 eur
Popis:
This accessible look at Klee's life and art displays the many facets that make his career so intriguing. Filled with personal photographs, quotations from the artist, and beautiful reproductions of his colorful paintings, watercolors, and prints, this volume introduces readers to the various themes that occupied Klee throughout his life. This book explores topics such as Munich between two world wars; the artists whom Klee befriended in the Blue Rider Group and at the Bauhaus; the music that continued to inspire him; and the illness that marked his final years. A fascinating introduction for anyone interested in learning about this renowned artist, here is a book that is as readable as it is informative.
Flowerhead: The Illustrations of Olaf Hajek
Bežná cena: 51.95 eur
Naša cena: 30.00 eur
Popis:
First monograph dedicated to the work of one of the most internationally sought-after editorial illustrators.
Olaf Hajek is one of the world's most successful illustrators. His colorful work is infused with a folkloristic naivety and freshness and can be seen in publications such as The New York Times, in advertisements for companies such as Bacardi and even on postage stamps. Despite the diversity of his clientele, Hajek makes no aesthetic compromises. His characteristic style of "magic realism" is what makes his work appealing to a broad audience and range of clients. Flowerhead is Olaf Hajek's first monograph. It presents an extensive collection of his commercial work as well as personal art that he created exclusively for the book.
Piet Mondrian: The Studios : Amsterdam, Laren, Paris, London, New York
(Piet Mondrian, Marty Bax)

Bežná cena: 44.95 eur
Naša cena: 25.00 eur
Popis:
The work of Piet Mondrian (1872-1944), whose orderly black-and-white squares, punctuated occasionally by primary colors are instantly recognizable, played a crucial role in shaping the avant-garde art of the twentieth century. Each section of this visual journey through his life and career takes its inspiration from the location of one of Mondrian's studios and traces his path from Amsterdam to Paris, and via the Dutch village of Laren to London and New York.
Each of these locations represents a distinct stage in the development of Mondrian's art: from the naturalistic paintings of the 1890s and the experimental neo-Impressionist works of the early twentieth century to his involvement with the De Stijl movement and his famous grid paintings, and finally the bold dynamism of his late work in the United States, inspired by the rhythms of jazz and the buzzing metropolis. As Mondrian's art took the simplification of form to an extreme, the walls of his studios became an ever-changing surface made up of cardboard rectangles painted in primary colors, white, and gray.
Illustrated by a wealth of paintings as well as personal photographs, documents, and texts written by Mondrian himself, the book captures every facet of this uncompromising artist's quest to represent the spirit of the modern world.
Turner & the Sea
(Christine Riding and Richard Johns)

Bežná cena: 44.99 eur
Naša cena: 25.00 eur
Popis:
This is the first publication to focus on J. M. W. Turner's lifelong fascination with the sea, from his Royal Academy debut in 1796, Fishermen at Sea, to his iconic maritime subjects of the 1830s and 1840s such as Staffa, Fingal's Cave. It places Turner and his work firmly in the broader field of maritime painting that flourished in nineteenth-century Britain, France, Germany, Holland, and America.
The majority of the works illustrated here–paintings, watercolors, sketches, sketchbooks, and engravings–are by Turner, but there are also comparative works by some forty other artists including Winslow Homer, James McNeill Whistler, John Constable, Benjamin West, and Gustave Courbet. The book is organized thematically and chronologically, and the subjects range from "Contested Waters," which examines what was at stake for marine painting during the Napoleonic Wars, to "New Wave," an exploration of Turner's international and often surprising legacy for the art of the sea.
No Problem
(Bob Nickas, Dietrich Diederichsen)
Bežná cena: 62.00 eur
Naša cena: 38.00 eur
Popis:
This seminal publication examines the latter half of the 1980s through the lens of international art scenes based at the time in Cologne arguably the European centre of the contemporary art world and New York. From breakout exhibitions of local artists at established Cologne spaces such as Karsten Greve, Paul Maenz, Rolf Ricke, Michael Werner and Rudolf Zwirner, to their embrace in newer galleries, the 80s marked a pronounced upswing in the concentration of international attention afforded to artists associated with the Cologne art scene. The obsession was mirrored in New York, where major shows came to roost at such significant venues as Barbara Gladstone, Metro Pictures and Luhring Augustine. . Important museum exhibitions that explored work being produced and exhibited on both sides of the Atlantic Europa/Amerika at Colognes Museum Ludwig, 1986; and A Distanced View: One Aspect of Recent Art from Belgium, France, Germany, and Holland, at New Yorks New Museum in 1986, to name two also set the tone for this ongoing dialogue. Big, bold and vibrant, this Pentagram-designed publication revives the conversation, reproducing in full colour every one of the over 100 immensely varied artworks by 22 international artists included in this massive exhibition one of the largest in David Zwirners history, showing simultaneously at both the 19th Street and 20th Street spaces. Beyond its stunning visual component, the book features crucial new scholarship by Diedrich Diederichsen and Bob Nickas; an illustrated timeline for both cities; and a range of interviews with curators, artists and gallerists. It also includes an arsenal of compelling archival material, from documentary photographs from the period and reproductions of Colognes historic Spex Magazine, to reviews of exhibitions from the period that demonstrate the development of critical reception. Taken as a whole, this massively ambitious exhibition catalogue encapsulates the energy and heart embodied by this fascinating and fecund moment in global art history.
Leonardo da Vinci
)

Bežná cena: 13.95 eur
Naša cena: 7.00 eur
Popis:
Featuring engaging text and numerous illustrations this book brings Leonardo da Vinci to life in a format that s both entertaining and informative. This book explores da Vinci's unique artistic talents and at the same time introduces Leonardo the mathematician, urban planner, cartographer, poet, musician, astronomer, and medical scientist. Readers will learn about the scientific discoveries that inspired the young artist and the cultural forces that nourished his creative spirit. This book features high quality reproductions of his most famous works along with notebook sketches of dissected bodies, flying machines, and even robots. The artist s personal life is told through fascinating anecdotes that look beyond the myth to bring the man into clearer focus. Throughout, the author's engaging tone allows readers to experience familiar masterpieces with a fresh eye.
Leonardo da Vinci (Mega Square)
(Parkstone Press)
Bežná cena: 9.99 eur
Naša cena: 5.00 eur
Popis:
Painter, sculptor, architect, mathematician, scientist, inventor-Leonardo da Vinci was an artist and scholar, the quintessential Renaissance man. In Mega Square illustrated. From the Mona Lisa to flying machines, from anatomy to cartography, the paintings and sketches of Da Vinci are gathered together in a convenient portable book that will excite the imagination of any art lover.
Gauguin (Mega Square)
(Parkstone Press)
Bežná cena: 9.99 eur
Naša cena: 5.00 eur
Popis:
Gauguin invites the reader to follow the visionary painter Paul Gauguin from France to exotic Tahiti, guided by his colourful masterpieces. Featuring a collection of both iconic and less well-known works by this influential artist, this book highlights Gauguin's famously erotic, primitive style and use of vivid colours. For a fan of the artist or someone who has yet to discover Gauguin's work, this conveniently compact book would make an ideal gift.
Cézanne (Mega Square)
(Parkstone Press)
Bežná cena: 9.99 eur
Naša cena: 5.00 eur
Popis:
Discover the work of Paul Cézanne, whose exploration of technique and form defined the Post-Impressionism movement in painting and set the artistic stage for the advent of Cubism. His bold use of strong colours influenced artists for generations to come and continues to surprise and delight us today. In Mega Square of this important French painter are collected in a compact volume-the perfect gift for any art enthusiast.
Rodin (Mega Square)
(Parkstone Press)
Bežná cena: 9.99 eur
Naša cena: 5.00 eur
Popis:
With text by the great Bohemian poet Rainer Maria Rilke and a wealth of beautiful images, this book explores the creative power of one of history's greatest sculptors. Mega Square Rodin features the best-known masterpieces of this genius of bronze and marble, who immortalised his revolutionary approach to sculptural subjects and the human body in figures that seem ready to come to life. This gift-sized book about a popular, brilliant sculptor is sure to appeal to a wide audience.
Angels (Mega Square)
(Parkstone Press)
Bežná cena: 9.99 eur
Naša cena: 5.00 eur
Popis:
Angels, those mystical, winged figures of religion and myth, have inspired writers and artists for centuries. Included in this book are pictures of angels by the greatest classical and contemporary artists, from delicate, whimsical cupids to majestic depictions of the archangel Michael. Featuring images of these mysterious creatures that are half-child, half-supernatural being, in a convenient portable size, Mega Square Angels will make the ideal gift.
Koons Jeff trade edition ju
(Ingrid Sischy, Eckhard schneider, Katy Siegel)
Bežná cena: 54.95 eur
Naša cena: 32.00 eur
Popis:
Which living artists keep their price? Who will be regarded as an investment 30 years from now? A decade after its sensational appearance, the most expensive limited edition artist monograph of the 20th century is finally back in print. (The rarest copy, numbered 1 and signed by Koons and 100 celebrities, was sold at auction for over $450,000.) Only this time everybody can afford it! The definitive work on the most controversial artist of his generation. A book owned by the world's major collectors and institutions, including New York's MoMA. See the exhibition in Berlin and remember why you've always loved Koons, even though you'd love to hate him – he's not only richer, but better looking. And he once married a porn star! Then plunge into this Taschen überwerk and revel in the kinky and kitsch, but always conceptual art of Jeff Koons. Basketballs in tanks! Stainless steel blow-ups! Topiary dog sculptures! Come on. Michael and Bubbles in porcelain. No artist since Warhol has made the banal appear so profound, and the trivial carry such import. So here's an object that bears his name. Does that make it mysterious – or valuable? Let's see. Includes a biographical essay, analyis of Koons from a European perspective, and a scholarly study of his work. With hundreds of large format full color images, it traces Koons' career from 1979 to today. A sumptuous objet d'art – he says so himself – and the definitive overview of Koons' work.
The Art of Robert E. McGinnis
(Robert E McGinnis)
Bežná cena: 38.95 eur
Naša cena: 23.00 eur
Popis:
A Modern Master Robert E. McGinnis began his career in 1947 as a cartoonist, and produced his first cover illustrations for 1956 issues of the magazines True Detective and Master Detective. Then in 1958, he painted his first paperback book cover, and from that day forward his work was in demand. The emergence of the "McGinnis Woman" – long-legged, intelligent, alluring, and enigmatic – established him as the go-to artist for detective novels. His work appeared on Mike Shayne titles and the Perry Mason series, and he produced 100 paintings for the Carter Brown adventures. Yet McGinnis became famous for his work in other genres as well: espionage, romance, historicals, gothics, and Westerns. McGinnis's first major magazine assignments were for The Saturday Evening Post, and his work has graced the pages of Cosmopolitan, National Geographic, Good Housekeeping, Guideposts, and others. McGinnis women frequently cropped up in the men's magazines of the '60s and '70s. His first movie poster was for Breakfast at Tiffany's, with an iconic rendering of Audrey Hepburn. Almost instantly, his poster artwork could be seen everywhere – in theaters, on billboards, in newspapers, and even on soundtrack albums. His work for Hollywood became a who's-who, with posters for James Bond, The Odd Couple, Woody Allen, The Private Life of Sherlock Holmes, and many more. Some of his most ambitious works have been his gallery paintings, often depicting stunning American landscapes, vast Western vistas, and of course, beautiful women. The Art of Robert E. McGinnis collection reveals the full scope and beauty of the work of a true American master – one whose legacy continues today.
Kitaj
(Marco Livingstone)
Bežná cena: 45.00 eur
Naša cena: 25.00 eur
Popis:
R. B. Kitaj (1932–2007) is recognized as a modern master whose powerful, controversial and highly personal paintings, pastels and drawings reflect his commitment to the human figure as a subject and his complex involvement with the art of the past, with political and social issues and with his own Jewish identity.
Marco Livingstone's definitive and much-praised monograph on Kitaj, based on an extraordinary series of interviews and letters between the artist and the author, provides full documentation of Kitaj's life and work. The artist himself participated actively in the design of the book, and a series of articulate and revealing 'prefaces' to his own paintings are also included here.
For this fourth and final edition, the author has written a new chapter surveying Kitaj's work from 1997 to 2007, an extremely productive period following the tragic death of his wife the artist Sandra Fisher and his return to the United States. This text is complemented by a new plate section illustrating 30 works from this final phase and 20 images of previously unillustrated earlier works, as well as 25 additional 'prefaces' written by the artist. The Bibliography has been updated and the Catalogue of Works completed, and finally many illustrations that were black and white in earlier editions are now reproduced in full colour.
As the definitive monograph on one of art's modern masters, this authoritative monograph is indispensable for all admirers of the artist.
Fritz Kahn
(Uta and Thilo von Debschitz)
Bežná cena: 43.95 eur
Naša cena: 20.00 eur
momentálne nedostupné
Popis:
Fritz Kahn was a German doctor, educator, popular science writer, and information graphics pioneer whose brilliant work has all but fallen into oblivion. Chased out of Germany by the Nazis, who banned and burned his books, Kahn emigrated to Palestine, then France, and finally the United States to continue his life's work. Though his achievements were numerous, the most notable was the development of creative visualizations to explain complex scientific ideas. Published on the 125th anniversary of Kahn's birth and destined to bring his work back into the spotlight, this monograph features more than 350 illustrations with extensive captions, three original texts by Fritz Kahn, a foreword by Steven Heller, and an essay about Kahn's life and œuvre. Natural science buffs, graphics professionals, and anyone interested in visual expression of ideas will be fascinated by this tribute to Kahn's greatest achievements.
Kandinsky Absolute Abstract
(Annegret Hoberg)
Bežná cena: 45.95 eur
Naša cena: 28.00 eur
Popis:
This catalog from the first venue of a major exhibit traveling through Europe and America celebrates the highlights of kandinsky's career through full-page color illustrations as well as the commentary of experts.
Featuring ninety-five works that were decisive in Kandinsky's development as an artist and theorist, this catalog to the exhibit offers brilliant reproductions of the paintings as well as photographs from the artist's life and works not included in the exhibition. A variety of critical perspectives are offered by some of the world's leading Kandinsky scholars. Each of the artist's major periods is presented in the retrospective, including his work in Munich and early association with the Blue Rider Group around 1912, his work in Russia and then in Germany at the Bauhaus School in the 1920s and early 1930s as well as his years in Paris from 1933 to 1944 where he refined his theories of abstract art. This volume offers a dazzling record of the most important works by a modern art icon and an informative commentary on the artist's life and work.
Cubist Picasso
(
Bežná cena: 38.89 eur
Naša cena: 15.00 eur
Popis:
In the world of art, Cubism was nothing less than revolutionary, representing a paradigm shift in the way artists perceived the world, and incontestably one of the most influential movements in art history. To celebrate the one-hundredth anniversary of Picasso's seminal work Les Demoiselles d'Avigon, leading Picasso scholars and art historians assess its legacy and the extraordinary influence of Picasso's Cubism on the development of twentieth-century art.
Adolf Born – autobornografie
(Adolf Born, Jiří Žáček, Maria Černá Pivovarová, Jana Steinerová)
Bežná cena: 79.00 eur
Naša cena: 45.00 eur
Popis:
Kto by nepoznal Adolfa Borna, obdivovateľa rakúsko-uhorskej monarchie i tureckých sultánov, milovníka vína, umenia, kaukliarov, alchymistov, faunov a kentaurov, priateľa zvierat aj zberateľa klobúkov a čiapok, ktorého vášňou je cestovanie, ale predovšetkým karikaturistu, grafika a maliara svetového formátu. Jeho obrazy plné humoru, irónie, zveličenia, fantastických predstáv a prekvapivých metafor milujú deti i dospelí. Reprezentatívny výber dávnych, novších, ale hlavne najnovších ukážok z Bornovej voľnej tvorby vás pozýva slovami Miloša Macourka "do sveta, v ktorom je prítomný nielen humor, ale i nostalgia, tajomstvo a tiež kvapka hrôzy, ale predovšetkým závratný pocit slobody, lebo v tomto beztiažnom priestore je možné všetko, o čom dokážete snívať". Knihu dopĺňa obsiahle, bohato ilustrované kalendárium, ktoré rok po roku zachytáva život aj všetky aktivity umelca – a nie je ich málo, ako konštatoval Ivan Kraus: "Súdiac podľa toho, koľko Adolf Born ilustroval kníh, na koľkých filmoch a seriáloch sa podieľal, koľko vytvoril litografií, kedy a kde všade vystavoval, povedal by som, že za posledných tridsať rokov nejedol ani nespal." A pridajme, za posledných šesťdesiat rokov. Publikácia vychádza k maestrovým osemdesiatinám.